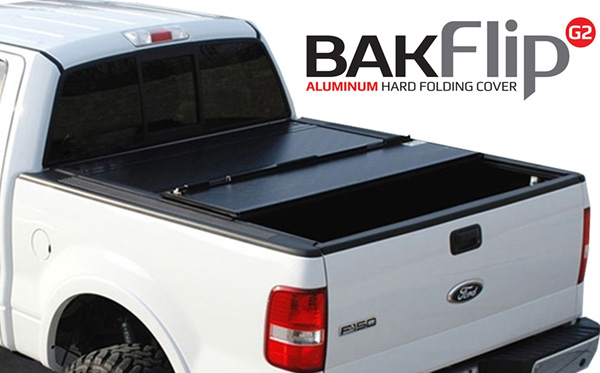 The BAKFlip® G2 Tonneau Cover is the NEWEST GENERATION of the original hard, folding multi-panel tonneau covers! Now you have all the security of a locking hard ALL METAL (aluminum) surfaced tonneau cover and have instant access to your entire truck bed!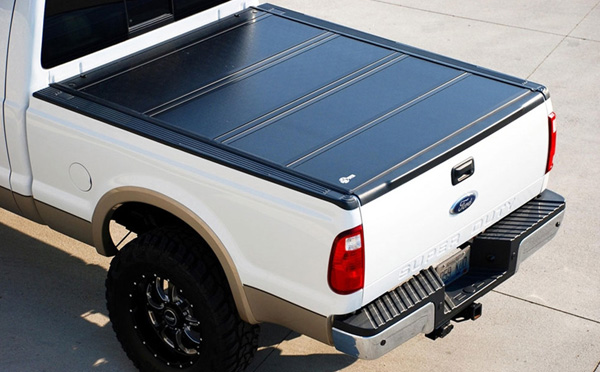 The innovative BAKFlip G2 cover folds all the way forward and up against the truck's rear cab (rear window) giving you access to all of your truck bed without removing the cover! The BAKFlip is also easily removable with 2 fastening knobs and weighs only 40 lbs! PLUS – The BAKFlip DOES NOT INTERFERE with stakehole pockets on your truck, so it works perfectly with side rails, headache racks, tie downs, overhead truck racks, etc!
The BAKFlip G2 now uses a tough textured aluminum paneled surface for all flat panel surfaces above and below the cover. This incredibly durable panel has a double coat of epoxy primer that is baked on at 460 degrees. Once the primer has set, an extraordinarily tough and scratch-resistant polyester based coating is used as the final finishing coat (which gives the look of a tough, baked on enamel, but is much higher quality). This coating process ensures that the covers is both scratch and UV resistant.
Prices starting at – $849.00

Call us today for more information at
281-469-8900
Real Experienced Truck Professionals want to talk to you!